There really wasn't much homesteading going on in the month of November – no garden work or special projects but there was quite a bit of hunting. From hunting Papaw's woods, with our neighbor at a hunt club and in West Tennessee with Papaw, the boys and their daddy logged quite a bit of time in the woods.
This was early one morning before Weston and John David left to hunt in Papaw's woods. He was excited but still sleepy.
This little girl is into everything – climbing and so curious but she's the cutest little bit!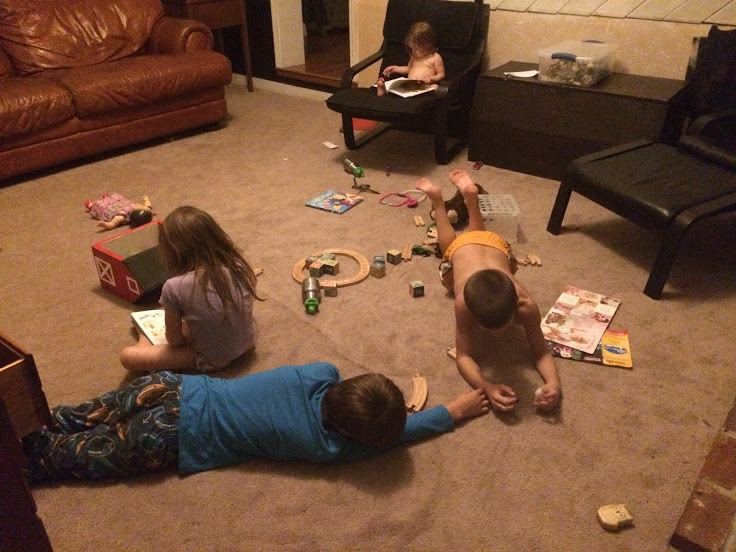 We're enjoying our long evenings together in the living room. Playing with toys and reading books are so fun and cozy.
Our hunters were successful a few times so we had a couple days of venison processing. The saying 'many hands make light work' is true. It's fun watching the kids learning and helping with such a practical task. Cecilia is our package labeler – she takes the job quite seriously.
One of our favorite dinners is Breakfast for Dinner. The kids and their daddy love my biscuits. Add sausage, gravy, potatoes, apple and peach butter and we all have full and happy tummies.
John David had a sweet little tag along for chores this morning. This gal loves being outside feeding!
Cecilia is quite the little cook. Here she is helping me make a pot of oatmeal for breakfast.
Paxton and Weston were pretending to be sports analysts one evening at the bar so Cecilia and I were sitting in the middle of the kitchen watching them. Laura was a bit fussy so I started to nurse her so Cecilia joined in and nursed her baby too – such a sweet little mama! I love moments like this.
The view from our bathroom window just doesn't get old. Especially when I have the privilege of watching my sweet man in his element doing what he loves.
All three of our big kids know how to cook eggs. This morning, Paxton made my breakfast. Not only did he make yummy eggs, he also plated them so nicely, silverware wrapped in my napkin and a sprig of lavender on the side – I love his attention to details.
Laura has been obsessed with books lately which I love because I love books and we read a ton of books in our family. She's too sweet.
—Rachel