March was a fun month – full of celebrations with two birthdays (mine and Cecilia's), the first day of spring and baby chicks!
I always have a helper in the kitchen – both boys enjoy cooking as so do my girls. One of Laura's often heard phrases in the kitchen is "me stir it".
I'm at the point with the big kids that their kitchen knowledge has become very helpful. They can peel, slice, stir and all kinds of helpful things really make a difference.
Laura has loved being in the cab tractor while daddy fences but sometimes a little girl just gets sleepy in the warm sunshine and dozes off!
We started seeds in March. It's such an exciting, hope and anticipation filled thing. These are mostly tomatoes, a few flowers like butterfly weed and lupine as well as some new to us plants this year – tomatillos, ground cherry and sunberry.
I love the month of March because it is my birth month, it's the first month of spring and because of daffodils. I just love daffodils!! There are several daffodils growing around our homestead – some we planted and some that were here before us and my boys keep my kitchen with a fresh display of daffodils as long as they're blooming.
On March 16, we got baby chicks! Such an exciting day. Weston and I both both several hens to add to our flock and Paxton bought one.
Our new baby chicks include 9 Ameraucanas, 4 Golden Sex Link and 3 Midnight Marans that are Weston's. 5 California White, 5 ISA Brown and 2 Amberlink chicks that are mine and Paxton bought a Black Speckled Sussex.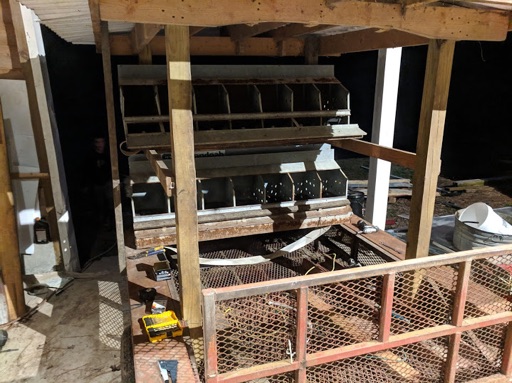 The weekend we bought chicks, John David was busy converting a trailer with a roof into an egg mobile. He added in salvaged nesting boxes, reused roost bars from our former hen house (now the brooder) and made the entire thing basically from scraps of metal and such that we had lying around.
The finished product! It looks great and functions well. I'm amazed at his vision and skills to create things like this.
Paxton with one of the hens. He's not as into farming as Weston is but he still enjoys it.
A small rainbow of eggs – a white, light teal, pink, brown and dark brown. Collecting eggs is such fun when you have a variety of colors!
All of our little farm kids. Excuse Laura's pacifier – it's only supposed to be used in the car but she snuck it out!
Laura has been a bit afraid of the chickens in the past couple of months but having the new batch of baby chicks has made her less afraid and she's been wanting to pet even the big hens.
Cecilia turned 5 March 20th and we started her birthday celebrations with homemade cinnamon rolls. They have way too much sugar but they're so very delicious! 
Our precious birthday girl designed and decorated her own cake with her Mimi's help.
My helper. This one is always eager and excited to help.
One evening when daddy had to work late, we went to a local park to play and walk around the  pond. We spotted duck eggs and enjoyed watching the ducks in the water.
Steel likes to sleep when Laura sleeps. Most afternoon she curls up under our bed while Laura naps in her crib. This night I spotted Steel curled up right next to Laura's crib.
Weston's grandparents picked him up a Chick Days sticker from Rural King. It had the rural king logo on it and he promptly cut off the logo and stuck the remaining sticker outside of the brooder. It's one of those sweet things that kids do that you just want to remember.
On March 30, we went to a friends skating birthday party (so much fun!) John David had to stop by the church to do a bit of work so the kids and I walked around downtown. It was such a beautiful day and I enjoyed making memories and snapping a few pictures.
We enjoyed March and all of the beautiful days and fun we had. We're looking forward to spending even more time outside in April as we prepare for meat birds and gardening.
—Rachel