This is the birth story of our first son, written in 2010. Looking back at his birth experience, there are things I wish I would have done differently.  Even though I don't agree now with the choices I made then, we're so thankful the induction resulted in an easy labor, delivery and healthy baby boy! 
On Monday, April 12th, we decided, under the guidance of our OB, that we were going to induce on Friday, April 16. I was 1 centimeter dilated and 70% effaced which my OB said was better than dilation. There wasn't any medical reason to induce but according to my calculations I would be 40 weeks on the 16th.
I had some friends inquire about our decision to induce and honestly I wondered if we had made the right decision. I prayed about it and asked God to reveal to me through John David or my parents or someone very close to me if we weren't supposed to induce. Over the next few days no one mentioned it and I had a peace about our decision.
On the 16th, we woke up at 5:00 and got ready to head to the hospital. We arrived around 6:00 and were lead to our room, room 405.
Around 7:10, a nurse came in and hooked me up to the monitors. We were able to hear our sweet boy's heartbeat.
At 7:30 another L&D nurse came in with our OB and he checked me, at this point I was 70% effaced and a tight 2 centimeters dilated.  Then they broke my water. I was unsure about how this would go, I expected it to be very uncomfortable but it wasn't that bad at all.
I was able to journal throughout the process and I am so glad I did because my memory of all of the events of the morning are somewhat fuzzy now.
Around 9:00 my contractions started picking up and becoming more and more intense. John David and I worked through them. I breathed and he had me count 1, 2, 3…..we got up to 45 a few times. Contractions were so strange, on one hand they were not painful but then they were absolutely horrible! Around 9:30 they were about 2 minutes apart and lasting about 45 seconds.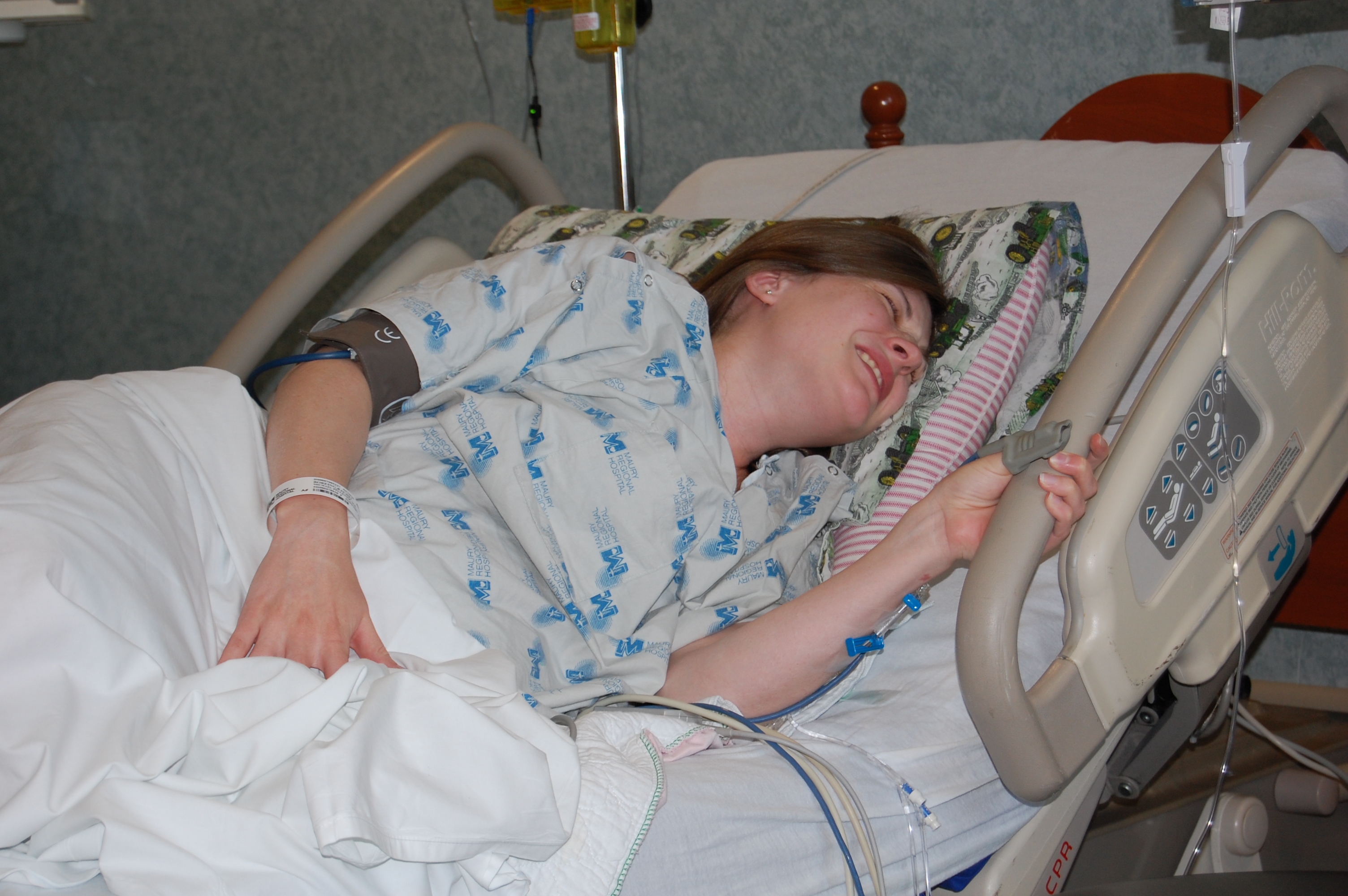 Working through one of the contractions. (When this one was over I looked at John David and said "I know you didn't take a picture of me!" I am glad he did now…this picture truly conveys the way I felt.
At 9:45 my nurse came in to check me and she said, "Oh my goodness, you are 7 centimeters." We were shocked but it explained the intensity of my contractions. She told me if I was going to have an epidural that I needed to have it done then. She told me she thought I could go natural but I decided that I was going to brave my fear of the needle for some pain relief. She also saw a little meconium in the amniotic fluid and notified the nursery, it actually was very light colored so she thought it happened recently.
Around 10:00 I received my epidural. My anesthesiologist did a wonderful job and my husband did an even better job helping me through contractions while I was getting the epidural. In fact, the anesthesiologist told us John David was the best dad he's seen.
Losing feeling in my legs was really strange but not feeling my contractions was awesome. I felt completely relaxed and wonderful and was able to enjoy the next 2 hours and continue my journaling (I never would have been able to journal otherwise.) Since things were progressing so quickly we started joking that we'd have a baby by lunchtime. Our doctor had been telling us hopefully you'll come in and progress quickly and have a baby by lunch. (We thought that sounded wonderful!)
Around 11:50 I was completely dilated and our nurse said we were ready for pushing. We did 3 practice pushes with a contraction and she called my OB.  While we were waiting to start really pushing I asked our nurse what she guessed the baby would weigh, she said I think he is going to be a small baby, about 7 pounds. I told her I was guessing no more than 7.5 pounds.
At 12:05 we started pushing and even stopped for about 5 minutes as the baby was crowning to wait for my OB to arrive. My OB arrived, the nursery nurse came to the room and we started pushing. After 29 minutes of pushing, at 12:34 Paxton Graham arrived crying loudly. Both our OB and L&D nurse said that is a big baby. My OB asked where was I hiding him. After he was delivered I inquired if I had an episiotomy (which I was really hoping to avoid). He told me yes, I had an episiotomy and then ripped because baby was so big he had to tug pretty hard on his shoulders.

Seeing my baby boy for the first time. He was the most beautiful baby I've ever seen and I was overwhelmed with emotion and crying.

Our beautiful baby. His daddy cut the cord and watched him get cleaned off.
Our OB had another patient almost ready to deliver but he waited for Paxton to be weighed before he left because he wanted to see how much he weighed.
Paxton weighed 8 pounds, 8 ounces. I think everybody in the delivery room was shocked. I really was expecting a small baby but we got a healthy 8.5 pound baby boy.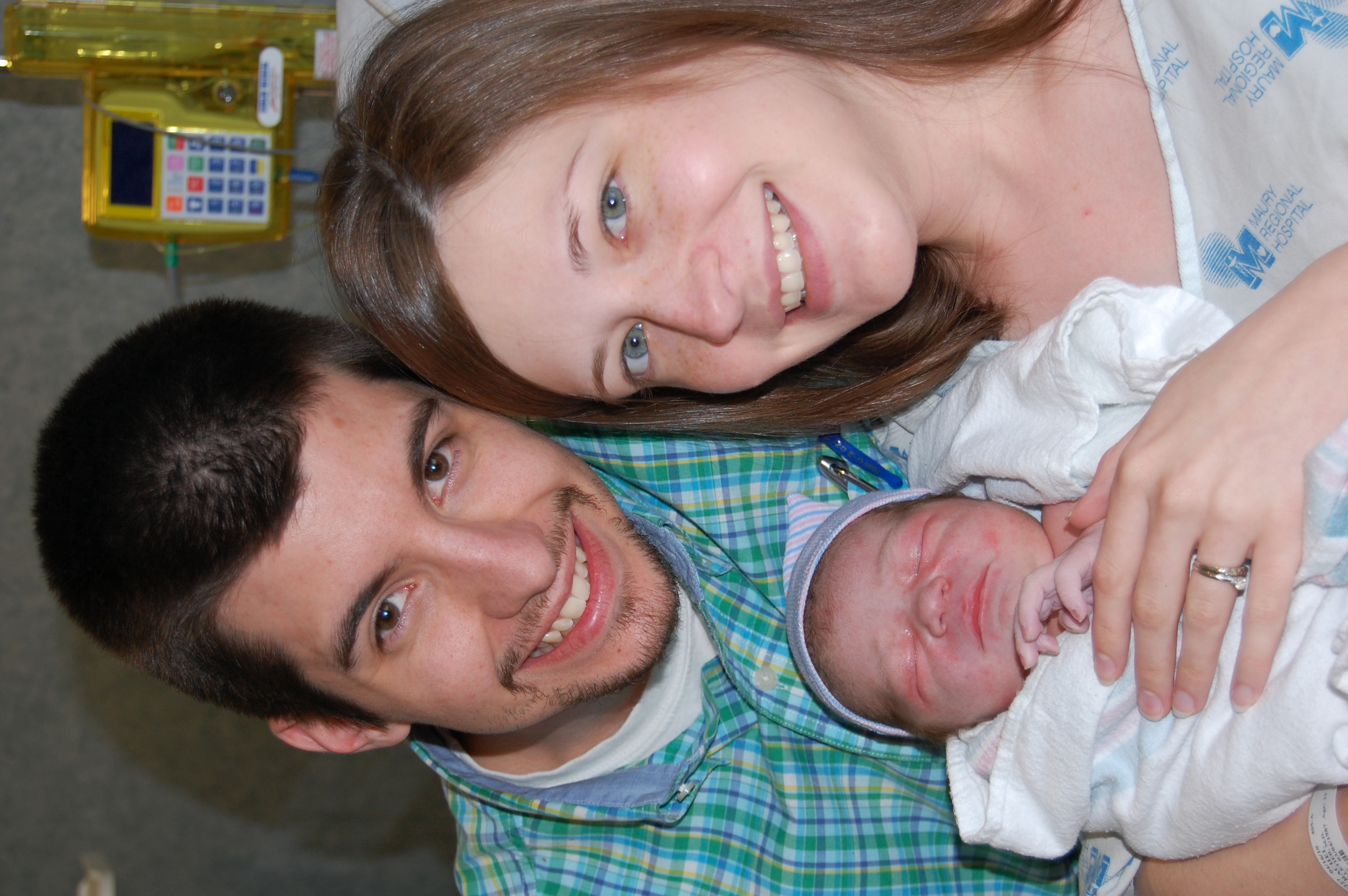 After seeing meconium in the amniotic fluid and delivering an 8.5 pound baby we were confident that inducing was the best thing for us to do. Our OB said if we had waited until our due date he probably would have weighed around 9 pounds and since it was difficult to get him out at 8.5 there was a possibility that I would have had a c-section.
We are so thankful that I had an easy labor and delivery and a completely healthy, perfectly formed baby boy. Now the adventure truly begins, parenting our little miracle.
Second Baby: Weston's Birth Story
Third Baby: Cecilia's Birth Story
Fourth Baby: Laura's Birth Story